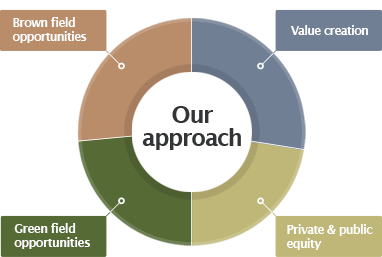 Creating Value
BoodaiCorp cultivates investments in:
traditional private and public equities,
brown-field and green-field opportunities with the potential for creating value equity.
Brown- and green-fields offer significant opportunities in sectors that have high entry barriers, such as government-regulated sectors and monopolistic markets. We establish market-dominating businesses and grow them to aspirational, profitable brands. We have continued to take advantage of market opportunities while staying true to our entrepreneurial roots.
A key facet of our success is investing time in managing both the conventional risks associated with each opportunity, as well as risks inherent to investing in the Middle East and emerging markets in general.